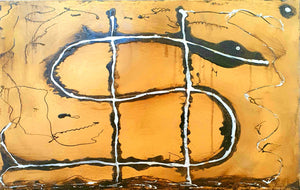 Rarely get the chance to put left over bitumen and mix with acrylic but it had to be done with this Chester inspired piece....
Tudor Dollarshot on Gold
Acrylic on canvas
60 x 40 cm (Unframed)
Those snake like features as he smudges along, quite happily - rare bitumen and acrylic combination in 2015 completed alongside Silver storm dollarshot. The white acrylic and gloss spray were the late additions to this piece that 'used the leftover bitumen from tongued Feathers' that caused the Artist to collapse due to lack of ventilation in his old house in Chester. The shadowed streaks and bitumen drips from the head and neck of the dollarshot leaning into the vulnerability and burning the candle at both ends as a life balance is strived for with the peace and quiet of white with the happy go lucky effect forming into a smile at the head of the dollarshot.