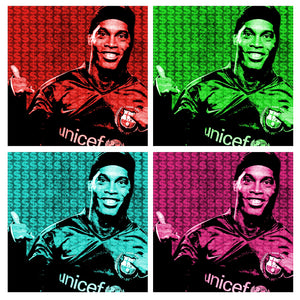 Ronaldo de Assis Moreira (born 21 March 1980), commonly known as Ronaldinho Gaúcho or simply Ronaldinho, a Brazilian former professional footballer and ambassador for Barcelona. Known as 'elastico' it's easy to see why,  here he is in action....
 He just had to be honoured as one of most disruptive footballers of all time in this 15 minutes of fame limited edition of 50 Pop Art Disruptive print. Signed by the Artist Jim Wheat with his picture duplicated across four squares, each one washed with a neon colour in the style of Pop Art portraiture, and subtly emblazoned with the dollar sign. Focusing the trope of money through people, places, and occasions, Dollarsandart's celebrity prints comment on the tense relationship between fame and finance in contemporary culture.
It was an honour to meet him...
and work on this private commission....