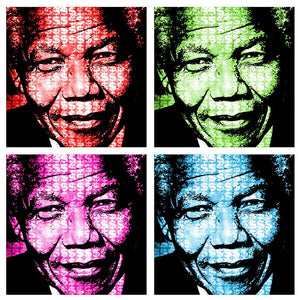 Free Nelson Mandela! Nelson Rolihlahla Mandela was a South African anti-apartheid revolutionary, political leader, and philanthropist who served as President of South Africa from 1994 to 1999. He was the country's first black head of state and the first elected in a fully representative democratic election.
Keeping this bold soul alive with this limited edition of 50 Pop Art Disruptive print. Signed by the Artist Jim Wheat with his picture duplicated across four squares, each one washed with a neon colour in the style of Pop Art portraiture, and subtly emblazoned with the dollar sign. Focusing the trope of money through people, places, and occasions,
Dollarsandart's celebrity prints comment on the tense relationship between fame and finance in contemporary culture.