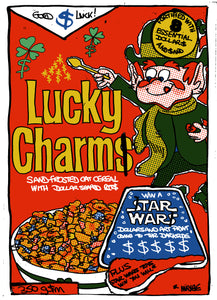 This good luck Lucky Charms print, hand traced, doctored, signed and dollared up with a double 4-leaf clover twist embellished in California.
 The bold 'Good $ luck' sign at the top of this work, coupled with the 4 leaf clovers as the golden dollars and stars are sprinkled in a triangular shape, a nod to the pyramid on the back of the dollar bill. The Irish Leprechaun wearing his 'Fortified with essential Dollars and sand' with another clover on the side of his hat and a cheeky teak of his black on red dollar badge. Rather than partaking in mischief, he is sprinkling good fortune on the golden lucky charm$ writing and into the bowl of golden sand frosted oat cereals with dollar shaped bits, helping you find that hidden pot of gold at the end of the rainbow as many of us strive to do, day in, day out.
The 'Win a Star Wars Dollarsandart print' message is a light tease at the special offers on cereal boxes that were rarely realised, often like dreams and potential in life but with a tip of the hat to yoda, the timeless master, with 'Plus Star Wars toys, win you will' covered with a *maybe brings it into balance. Finally the 350 gsm is a reference to paper density often used for screen printing on which this first design was based on with this poster style gloss bring out the vibrant energy an essential element of life.
Lucky you!
What are you waiting for?