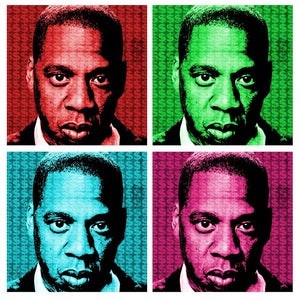 Shawn Corey Carter (born December 4, 1969), known professionally as Jay-Z (stylized as JAY-Z), is an American rapper, songwriter, producer, entrepreneur, and record executive. Considered among the best rappers of all time, he is regarded as one of the world's most significant cultural icons and has been a global figure in popular culture for over two decades.
This is one of my favourite Jay-Z tracks featuring Kanye and a nod to OTIS, the signer, not the lift company.... 
disrupting the rap scene and honoured as one of most successful artists of all time in this limited edition of 50 Pop Art Disruptive print. Signed by the Artist Jim Wheat with his picture duplicated across four squares, each one washed with a neon colour in the style of Pop Art portraiture, and subtly emblazoned with the dollar sign. Focusing the trope of money through people, places, and occasions, Dollarsandart's celebrity prints comment on the tense relationship between fame and finance in contemporary culture.