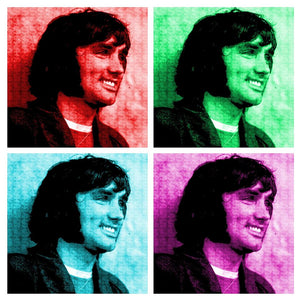 George Best (22 May 1946 – 25 November 2005) was a Northern Irish professional footballer who played as a winger, spending most of his career at Manchester United. He is universally regarded as one of the greatest players of all time.[2][3] A highly skilful winger, considered by several pundits to be one of the greatest dribblers in the history of the sport, Best received plaudits for his playing style, which combined pace, skill, balance, feints, two-footedness, goalscoring and the ability to get past defenders.[4][5][6]
With his good looks and playboy lifestyle, Best became one of the first media celebrity footballers, earning the nickname "Fifth Beatle" in 1966,[7]but his extravagant life style led to various personal problems, most notably alcoholism, which he suffered from for the rest of his life. These issues affected him on and off the field, often causing controversy.[8] Although conscious of his problems, he was publicly not contrite about them; he said of his career: "I spent a lot of money on booze, birds [women] and fast cars – the rest I just squandered".[9] After football, he spent some time as a football analyst, but his financial and health problems continued into his retirement.[8] He died in 2005, age 59, due to complications from the immunosuppressive drugs he needed to take after a liver transplant in 2002.
One of the best footballers of all time is  featured in this limited edition of 50 Pop Art Disruptive print. Signed by the Artist Jim Wheat honouring one of the most charismatic comedians of all time with his picture duplicated across four squares, each one washed with a neon colour in the style of Pop Art portraiture, and subtly emblazoned with the dollar sign. Focusing the trope of money through people, places, and occasions, Dollarsandart's celebrity prints comment on the tense relationship between fame and finance in contemporary culture.