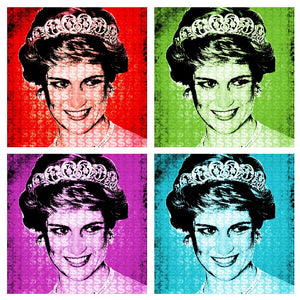 'Diana' disruptive celebrates Diana, Princess of Wales (born Diana Frances Spencer; 1 July 1961 – 31 August 1997),  a member of the British royal family. She was the first wife of Charles, Prince of Wales, the heir apparent to the British throne, and the mother of Prince William, Duke of Cambridge, and Prince Harry, Duke of Sussex.
This limited edition of 50 Pop Art Disruptive print. Signed by the Artist Jim Wheat honouring one of the most charismatic Royals of all time with his picture duplicated across four squares, each one washed with a neon colour in the style of Pop Art portraiture, and subtly emblazoned with the dollar sign. Focusing the trope of money through people, places, and occasions, Dollarsandart's celebrity prints comment on the tense relationship between fame and finance in contemporary culture.
Diana remained the object of worldwide media scrutiny during and after her marriage, which ended in divorce on 28 August 1996 following well-publicised extramarital affairs by both parties. Media attention and public mourning were extensive after her death in a car crash in a Paris tunnel on 31 August 1997 and subsequent televised funeral.