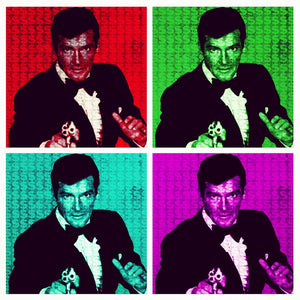 Sir Roger George Moore  (KBE 14 October 1927 – 23 May 2017) was an English actor. He is best known for having played Ian Fleming's fictional British secret agent James Bond in seven feature films from 1973 to 1985.
Moore took over the role of Bond from Sean Connery in 1972, made his first appearance as 007 in Live and Let Die (1973), and went on to portray the spy in six more films until his retirement from the role in 1985. Appointed a UNICEF Goodwill Ambassador in 1991, Moore was knighted by Queen Elizabeth II in 2003 for services to charity plus given rhyming slang for brass.
He just had to be honoured as one of the finest James Bonds of all time in this limited edition of 50 Pop Art Disruptive print. Signed by the Artist Jim Wheat with his picture duplicated across four squares, each one washed with a neon colour in the style of Pop Art portraiture, and subtly emblazoned with the dollar sign. Focusing the trope of money through people, places, and occasions, Dollarsandart's celebrity prints comment on the tense relationship between fame and finance in contemporary culture.