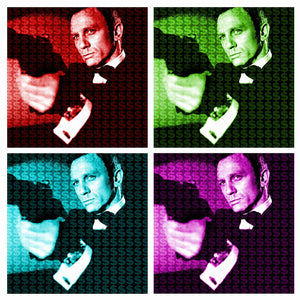 Daniel Wroughton Craig (born 2 March 1968) is an English actor.  After bits on British Telly, Craig's lead appearances included the action film Lara Croft: Tomb Raider (2001), the crime thriller Road to Perdition (2002), the crime thriller Layer Cake (2004), and the Steven Spielberg historical drama Munich(2005).
Craig achieved international fame when chosen as the sixth actor to play the role of Ian Fleming's British secret agent character James Bond in the film series, taking over from Pierce Brosnan in 2005. His debut film as Bond, Casino Royale, was released internationally in November 2006 and was highly acclaimed, earning him a BAFTA award nomination. Casino Royale became the highest-grossing in the series at the time. Quantum of Solace followed two years later. Craig's third Bond film, Skyfall, premiered in 2012 and is currently the highest-grossing film in the series and the twentieth highest-grossing film of all time; it was also the highest-grossing film in the United Kingdom until 2015.[3][4] Craig's fourth Bond film, Spectre, premiered in 2015. He also made a guest appearance as Bond in the opening ceremony of the London 2012 Olympic Games, alongside Queen Elizabeth II.
He just had to be honoured as one helping take bond to the next level in this limited edition of 50 Pop Art Disruptive print. Signed by the Artist Jim Wheat with his picture duplicated across four squares, each one washed with a neon colour in the style of Pop Art portraiture, and subtly emblazoned with the dollar sign. Focusing the trope of money through people, places, and occasions, Dollarsandart's celebrity prints comment on the tense relationship between fame and finance in contemporary culture.