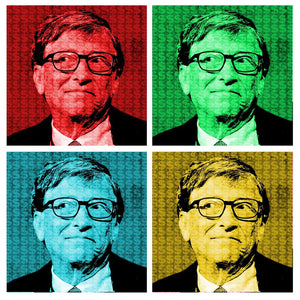 William Henry Gates III (born October 28, 1955) is an American business magnate, investor, author, philanthropist, and humanitarian. He is best known as the principal founder of Microsoft Corporation.[ During his career at Microsoft, Gates held the positions of chairman, CEO and chief software architect, while also being the largest individual shareholderuntil May 2014.
With the Artist proof causing a stir at £3,000, Gates is one of the best-known entrepreneurs of the personal computer revolution. He has been criticized for his business tactics, which have been considered anti-competitive. Since 1987, Gates has been included in the Forbes list of the world's wealthiest people, an index of the wealthiest documented individuals, excluding and ranking against those with wealth that is not able to be completely ascertained.
Later in his career and since leaving Microsoft, Gates pursued a number of philanthropic endeavors. He donated large amounts of money to various charitable organizations and scientific research programs through the Bill & Melinda Gates Foundation, reported to be the world's largest private charity.In 2009, Gates and Warren Buffett founded The Giving Pledge, whereby they and other billionaires pledge to give at least half of their wealth to philanthropy. The foundation works to save lives and improve global health, and is working with Rotary International to eliminate polio.
Honoured as one of the wealthiest people  of all time in this limited edition of 50 Pop Art Disruptive print. Signed by the Artist Jim Wheat with his picture duplicated across four squares, each one washed with a neon colour in the style of Pop Art portraiture, and subtly emblazoned with the dollar sign. Focusing the trope of money through people, places, and occasions, Dollarsandart's celebrity prints comment on the tense relationship between fame and finance in contemporary culture.