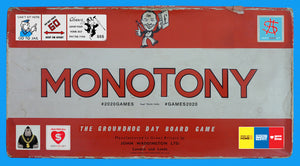 I'm 50:50 on this game although given the circumstance it has to be in on every level! Still fond of getting Mayfair as early as possible plus chugging my way around the board with an iron it's enjoyable provided that it doesn't go on for more than 2 hours.....
A nod to the stoic nature of 'Lockdown extended' as groundhog day strikes again before health workers do!  Available both as a limited edition pop art style poster round about A3 size (30cm x 42cm) by contemporary artist dollarsandart from a limited edition of 50, this print is signed and numbered by the artist and founder Jim Wheat.

Well I never.....
The history of Monopoly can be traced back to 1903, when American anti-monopolist Lizzie Magie created a game which she hoped would explain the single tax theory of Henry George. It was intended as an educational tool to illustrate the negative aspects of concentrating land in private monopolies!