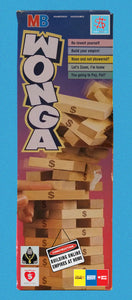 'I'll knock your block off' - Anyone in the early 1980's - not heard that phrase for years! Building empires at home during lockdown with WONGA!  These dollar emblazoned blocks should help keep this tower from toppling! Remember when MASSIVE Jenga started showing up in pubs and clubs - me neither! Rome wasn't built in a day so one block at a time and be careful you don't just build on sand, it's barely sustainable....

Either way capture these surreal lockdown times with this limited edition pop art style poster round about A3 size (30cm x 42cm) by contemporary artist dollarsandart from a limited edition of 50, signed and numbered by the artist and founder Jim Wheat or i'll knock your block off!


It's a jungle out there, not really, let's connect more....