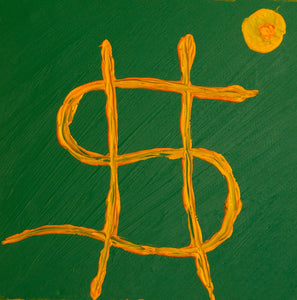 Never, ever give up on those Golden dreams....
13. Dollarshot Golden Dreams on Yellow
Acrylic on Canvas
50cm x 50cm
2014
This painting being noted as a rare 'less is more' step for the Artist before forming his more recognisable eyes, mouth and head style 'Dollarshot'. Initially showcased in July 2015 at according to McGee, England with the opportunity to place in L'escargot, Greek Street, London politely declined so who knows where next?
Ideally where money flows with colours like these!