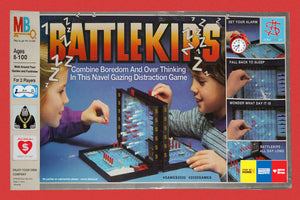 YOU SUNK MY BATTLESHIP! Came the cry back in 1982 - it wasn't the Falklands War, rather gaming in the lounge - boy did those '2-er' (the ships with 2 holes for pegs in) take some sinking......
Granted most of us have witnessed lazy days in the past one thing I've refused to do is lie in / doss / kip - however it's understandable from time to time so for thozzzzzze of you who love a sneaky nanny nap this one is for you!

Available both as a limited edition pop art style poster round about A3 size (30cm x 42cm) by contemporary artist dollarsandart from a limited edition of 50, this print is signed and numbered by the artist and founder Jim Wheat*

*Still looking for 2-er batlteships!