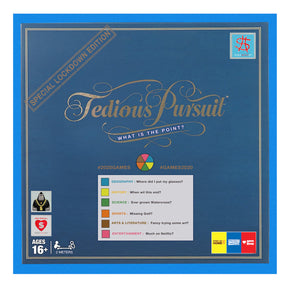 Trivial Pursuit becomes even more tedious during lockdown : an invented in Canada boardgame that I enjoyed playing once, in 1982 along too Video Killed the radio star buggles I think it was, anyway, where was I....
Back to Bored / Boardgames 2020 - Categories in this special lockdown edition have been changed to reflect the current times as you'll see from the attached key on the cover.
Capture the times with this limited edition pop art style poster round about A3 size (30cm x 42cm) by contemporary artist dollarsandart from a limited edition of 50, signed and numbered by the artist and founder Jim Wheat. Right, back to the rules....
In the meantime, let's roll....