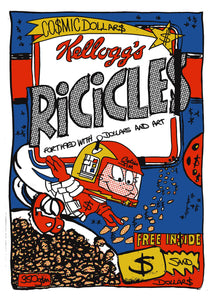 Available in both Fine Art print (limited edition, signed and numbered on fancy paper) or a glossy Ultra Violet proof poster.
Inspired by the cereals of yesteryear, this collection is a celebration of classic brands with a dollarsandart twist. 
We hope that these great pieces bring back plenty of nostalgic memories of growing up and home. 
Great as individuals or presented together as a series, they are a fantastic edition to your home or office space.