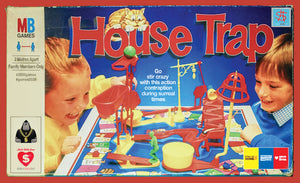 I well remember Mousetrap  being advertised but can't honestly recall seeing it in action! 
Spot any subtle differences in the packaging here and the hidden $ sign?
Available both as a limited edition pop art style poster round about A3 size (30cm x 42cm) by contemporary artist Dollarsandart from a limited edition of 50, the print is signed and numbered by the artist and founder Jim Wheat.
Whatever is going on in the world enjoy your space, your Housetrap and long may your pieces remain intact! Don't hate those 'Meeces to pieces'! 
Have a thriller with our Gorilla instead!