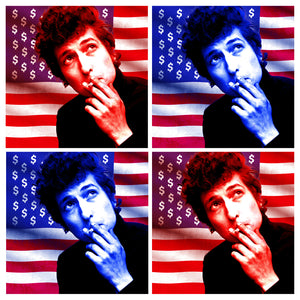 Limited edition (of 50) 60cm x 60cm unframed Giclee fine art disruptive collection print Signed by the Artist Jim Wheat
"All I can do is be me, whoever that is: - Bob Dylan born 
Robert Allen Zimmerman
, May 24, 1941) is an American singer-songwriter. Often regarded as one of the greatest songwriters of all time,
Dylan has been a major figure in popular culture during a career spanning more than 60 years.
The answer is Blowin' in the wind with this limited edition of 50 Pop Art Disruptive stars & stripes print of
Bob Dylan
, s
igned by the Artist Jim Wheat with his picture duplicated across four squares, each one washed with a neon colour in the style of Pop Art portraiture, and subtly emblazoned with the dollar sign. Focusing the trope of money through people, places, and occasions. Dollarsandart's celebrity prints comment on the tense relationship between fame and finance in contemporary culture.