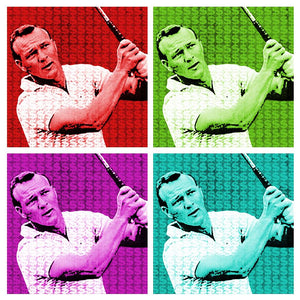 Limited edition (of 50) 60cm x 60cm unframed Giclee fine art disruptive collection print Signed by the Artist Jim Wheat
Arnold Daniel Palmer (1929-2016) was an American professional golfer who is generally regarded as one of the greatest and most charismatic players in the sport's history. Dating back to 1955, he won numerous events on both the PGA Tour and the circuit now known as PGA Tour Champions.
This pop art print the timeless golfer who one said :-
'Golf is deceptively simple and endlessly complicated'
Like life itself with this limited edition of 50 Pop Art Disruptive print. Signed by the Artist Jim Wheat honouring one of the most charismatic Golfers of all time with his picture duplicated across four squares, each one washed with a neon colour in the style of Pop Art portraiture, and subtly emblazoned with the dollar sign. Focusing the trope of money through people, places, and occasions, Dollarsandart's celebrity prints comment on the tense relationship between fame and finance in contemporary culture.