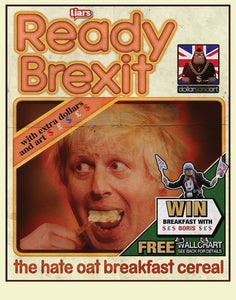 A relatively late addition to The Cereals collection but like Brexit itself, better late than never?!
Available on retro style straw box board 1979 style : no gloss effect with this one, orange glow optional.
Inspired by the cereals that reminds Jim of home, this collection is a celebration of classic brands with a dollarsandart twist. 
We hope that these great pieces bring back plenty of nostalgic memories of growing up and home. 
Great as individuals or presented together as a series, they are a fantastic edition to your home or office space.