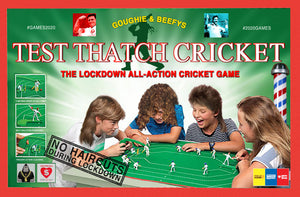 Owzat!? Haircut free times inspired test thatch cricket, the concluding piece in the Games2020 collection honouring Darren Gough and patron Sir Ian Botham in Disruptive fashion during surreal times.....
This, the fitting closing piece #20 of the collection dipping into nostalgia as we learn to bat on facing different rules. My colourblind patron, Sir Ian Botham helps keep it real to this day...
With Goughie himself, coming up with this theme in an instagram comment in mid April 2020, now honoured in The Disruptives collection....
Available both as a limited edition pop art style poster round about A3 size (30cm x 42cm) by contemporary artist dollarsandart from a limited edition of 50, this print is signed and numbered by the artist and founder Jim Wheat...
Owzat!?