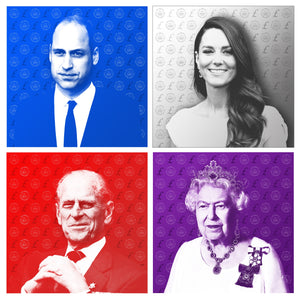 Altogether now -  family is family during these massive times of disruption so here's the most recent Royal Family with Philip resting in peace but not without a few chuckles along the way!

" A new Royal Family, a wild nobility - we are the Family" - Adam Ant : 1982
Anyway, it's likely that William will be King & Catherine his consort as a generation is skipped and not honoured in the disruptives collection as requests for Andrew keep flooding in!
To celebrate this unprecedented platinum anniversary of H.R.H's 70 years on the throne, events and initiatives are in full effect throughout the year together with this right Royal limited editions the physical versions of which now take pride of place at The Theatre by Qe2 aboard the Qe2 permanently berthed in Port Rashid, Dubai.
The NFT versions are limited to only 10 already minted royally here exclusively on Terra Virtua celebrating these magical, timeless icons and national treasures with neon pop art squares and crypto eyes interspersed with the official platinum Jubilee crest and a dollop of purple for good measure - lashings of it, in fact some 70 times over!

Buy one of only 70 limited editions of this Pop Art Disruptive print and capture the right Royal family in style signed by the Artist Jim Wheat honouring one of the most potentially exciting Royal partnerships of all time with their picture duplicated across four squares, each one washed with a neon colour in the style of Pop Art portraiture, and subtly emblazoned with the pound sterling sign. Focusing the trope of money through people, places, and occasions.
Dollarsandart's celebrity prints comment on the tense relationship between fame and finance in contemporary culture during these disruptive times. Looking for something little different then why not disrupt yourself or a friend  - anything is possible - whatever next?