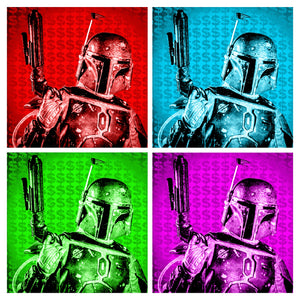 Limited edition (of 50) 60cm x 60cm unframed Giclee fine art disruptive collection print Signed by the Artist Jim Wheat
With his customized Mandalorian armor, deadly weaponry, and silent demeanor, Boba Fett was one of the most feared bounty hunters in the galaxy. A genetic clone of his 'father,' bounty hunter Jango Fett, Boba learned combat and martial skills from a young age.
Arrrrghhhh (Gargles)"  - Chewbacca.
Who was the popular in school I wonder?
The answer is Blowin' in the wind with this limited edition of 50 Pop Art Disruptive of Boba 'I wish I kept the boxed Kenner figure of him in 1978' Fett for those 1977 purists
 s
igned by the Artist Jim Wheat with his picture duplicated across four squares, each one washed with a neon colour in the style of Pop Art portraiture, and subtly emblazoned with the dollar sign. Focusing the trope of money through people, places, and occasions.
Two sides of the coin with Star Wars light...
and the contrasting Dark...
Both have their place whilst Dollarsandart's celebrity prints comment on the tense relationship between fame and finance in contemporary culture. Keep on moving...