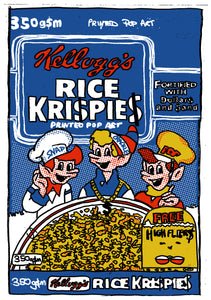 10. The true Snap, Crackle and Pop Art - they still make the milk dance!
Full of goodness, available in both a signed,limited edition fine art print by the artist Jim Wheat in screen print or digital format or just a no frills glossy posters.

Inspired by the cereals that reminds Jim of home, this collection is a celebration of classic brands with a dollarsandart twist.

We hope that these great pieces bring back plenty of nostalgic memories of growing up and home.

Great as individuals or presented together as a series, they are a fantastic edition to your home or office space.

Even better with hot milk - prefect for high fliers!